17th September. Shinzo Abe made a letter "solidarity Against the North korean Threat" at the New York Times.
In this letter, Abe insists that the international community is strongly solidarity and pressure must be exerted on North Korea. I focused on the subjects that Abe wanted to tell most to the people of the United States.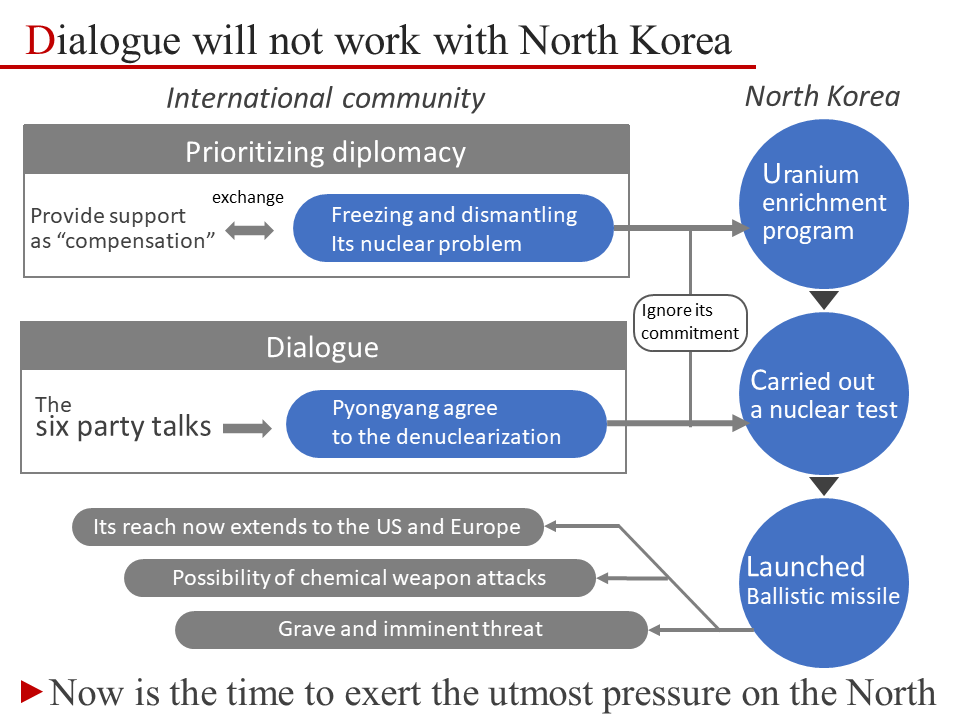 Abe repeatedly insisted that the international community should concertedly and strongly pressurize North Korea. There may be people who have the idea that there is another peaceful solution to this idea. But Abe talks about some failures of diplomatic history to North Korea and explains that solutions should not be taken any longer.
In the early 1990s, North Korea withdrew from the Nuclear Nonproliferation Treaty and the International Atomic Energy Agency. North Korea's nuclear issue will become full-fledged from here.
Japan, the United States and South Korea requested North Korea to denuclearize North Korea by constructing a light water reactor, providing heavy oil, and taking over the debts of North Korea as a substitute for " Prioritizing diplomacy" However, North Korea has been promoting uranium enrichment plan while receiving " compensation" of such exchange conditions.
Therefore, since 2003, the six-party talks including North Korea, Japan, the United States and South Korea plus China and Russia will begin. The main theme is denuclearization of the Korean Peninsula.
Among them, although North Korea promised denuclearization of the Korean Peninsula, it continued its nuclear development in the shade. And suddenly, North Korea conducted an underground nuclear test. North Korea continues to ignore the promise with the international community. North Korea's ballistic missiles are placing a heavy imminent threat to the international community.
Looking back on history, we can see that the military capabilities of North Korea are steadily becoming more sophisticated. The expansion of the military capabilities of North Korea, which began with the uranium enrichment plan, has now reached the point where it can be launched by mounting it on ballistic missiles. The peaceful response of the international community to North Korea was all in vain.
Abe is calling for strong sanctions on the international community not because he hates North Korea. Abe knows that the regime of this country is dishonest and cannot be trusted. Abe knows that dialogue diplomacy only increases North Korea.
I also agree with Abe. If Japan and the United States cooperate and face a strong attitude toward North Korea, the problem will be resolved.